Atletico Madrid opened their campaign with a 4-2 victory over Real Madrid in Tallinn with Diego Costa scoring a brace, leaving Los Blancos wondering whether they need a player like the former Chelsea forward.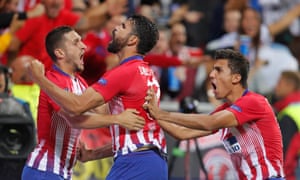 It took Costa just 50 seconds to open the scoring in Estonia with Real Madrid starting the match still on the beach.
Costa battled for every loose ball throughout the 120 minutes of play, latching onto his own knock-down header before firing a shot past Keylor Navas at an impossible angle.
Cristiano Ronaldo's departure inevitably leaves the European champions with a shortfall in terms of goals, and with no notable attacking signings having been made this summer there are concerns that Julen Lopetegui is heading into his debut campaign with a blunt attacking corps.
In his robust style, the Spanish international caused Real Madrid huge trouble in defence, and he galvanised his teammates as the match went into extra time.
Karim Benzema and Gareth Bale have both been expected to take on the mantle from Ronaldo, yet neither gave their team anything near what Costa brought to Diego Simeone's side.
A brief flirtation with Robert Lewandowski earlier in the summer was the club's only foray into the market for a centre-forward, yet it appears to be a position of real concern ahead of the LaLiga opener against Getafe.
Simeone feels he now has the perfect squad to challenge for success in both LaLiga and the Champions League, and in Costa's performance on Wednesday we've perhaps seen what will likely be the difference between the two Madridclubs in the 2018/19 season.